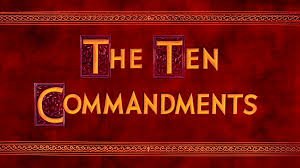 Are the Ten Commandments obsolete???
A few years ago, multi-millionaire TV businessman Ted Turner said they were: "We're living with outmoded rules. The rules we're living under are the Ten Commandments, and I bet nobody here even pays much attention to 'em, because they are too old. When Moses went up on the mountain, there were no nuclear weapons, there was no poverty. Today, the Ten Commandments wouldn't go over. Nobody around likes to be commanded. Commandments are out."
Part of what he said is true, and part was false. Very false. Looking at our modern society (as evidenced on the television and internet), one might think that we reward and glorify sin and punish or criticize virtuous behavior. If right seems wrong, and wrong seems right? What is to become of us? The Ten Commandments pattern series will explore each of the Ten Commandments that God gave to Moses as they relate to modern society and culture.
Throughout this pattern series, you will be exposed to a reflective message and Bible verses that will encourage you to explore your own faith while constructing a 10" block. At the end of each pattern, space is provided for your own personal reflection. You can use this space to recall your personal thoughts regarding the Commandment, or you can use the space to reflect on your process/progress when constructing the quilt. Your completed journal will become a cherished treasure to accompany your finished keepsake quilt.
The Ten Commandments 10-block pattern series will conclude with setting patterns to include a bed runner and twin-size bed quilt. Each setting will incorporate ten different 10" blocks, together with background fabric. While the quilt was designed with four basic fabric colors in addition to the background fabric, the block fabrics can be adapted for a scrappy quilt as long as two basic guidelines are followed: 1) Background fabric & setting fabrics MUST be the same color. It can be multiple fabrics or a single fabric (as long as it is the color remains). 2) Fabric scraps of multiple colors can be substituted for Fabric 1 and Fabric 2. The two Feature Fabrics, however, must be a consistent color. They can be a single fabric or multiple fabrics (as long as the color remains consistent).