Are you ready to wrap up your COVID Friends Quilt?

We began our quilt along on August 17, and once we introduce the Row 3 patterns on October 19, you may soon be ready to put your blocks together in the finished king size quilt. We've included (14) potential blocks, and you will only need (9) blocks for the quilt, so we created two additional quilt projects that will use the remaining blocks.

Here are your setting options
The complete pattern links will be emailed before our Zoom session. We will begin pattern testing these patterns this week.


| | | |
| --- | --- | --- |
| King size quilt 107.75"x107.75" | Bed Runner 26"x102" | Pillow 30" square |
Quilt Along continues October 29
Join us online for the quilt along for the setting patterns on October 29. We will be sharing the king-size quilt, bed runner and pillow patterns. Join us live, online via Zoom, participate in a watch party with friends, or wait for the video that will be edited and released later in the week..

Here is the link to the ZOOM live for October 29, 1:00 pm CST (that's CENTRAL time zone)
https://us02web.zoom.us/j/81863519590

Simply click the link, or copy and paste into your web browser.


Always Remember...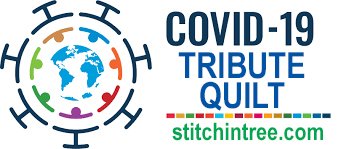 The COVID-19 global pandemic has forever changed the face and heart of our EARTH. Without discrimination, COVID has destroyed millions of lives and livelihoods.Quilters around the world have rushed into action to construct face masks, gowns, caps and other protective gear. At a time when we want to gather together, we are encouraged (and sometimes ordered) to stay apart.

One year from now, five years from now, one generation from now, how will you remember COVID? What stories will you tell your children, grandchildren?

Read all about our COVID Friends Quilt Along

and join quilting friends across our great nation as we complete this quilt.


The quilt design is a work in progress. As the pandemic evolves, we add optional blocks. The overall design is set, and we've created a web page that tells the stories of all of the blocks in the quilt.



















Each block tells a story, check out the blocks and their stories on our COVID-19 Friends Story page.


---
Got Questions?
Visit our Frequently Asked Questions Page

Follow us on FACEBOOK
We will host a Facebook group for COVID Friends to post pictures, comments and support for each other. The Facebook group will open June 10. You do not have to participate in the Facebook group to be part of this Quilt Along. I've sent an email to invite you to join. Again, this is not required, so do not feel obligated. Here is the direct link to the Facebook group: https://www.facebook.com/groups/548098616079718/

Invite your friends to join us -- please share this email with all of your quilting friends.

They can click this link to read all about it...COVID FRIENDS TRIBUTE QUILT