COVID Tribute Quilt Update for Quilt Shops 10-18-20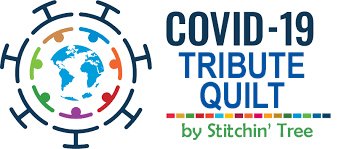 Covid Tribute Quilt Update



October 18, 2020

Hi all, I apologize for not making my previously reported deadline. COVID has creeped into our small town of 1500 and it is devastating. Our one and only nursing home has 52 of it's 54 patients testing positive. Today the 8th nursing home resident passed. Our Aunt Dorothy (the 7th) was buried yesterday. I was appointed surrogate daughter, as our cousins were allowed to spend time with their mother during her final hours. Because of their exposure, they were unable to take care of the business of burying their mother: meeting with the funeral home director, the priest, the florist, the musicians, and the caterers (and now because of COVID), the videographer. I was honored that they asked me to help out. Aunt Dorothy was 91, but she was a healthy 91 prior to COVID. Our rural county is rocked to its core. You won't see us reported on the news as Iowa's #1 hotspot because we are too rural to be newsworthy (and we'd rather not have the notoriety). With a total county population of 14,000, we are averaging 13 new cases per day with a positivity rate of 46%. It is scary. As a retired school administrator, I'm helping teach online classes because so many of our teachers are impacted. And my husband and I have opened our home to several children who need a safe place to live while their parents quarantine. I ask for your prayers that this black cloud will leave us soon and allow us to mourn our losses and return to some semblance of normality.


1. Your customized patterns for Row 3 are in your shared Google folders.

2. I will send you my email copy later today.

3. We will pattern test the setting pattern(s) Tuesday, Wednesday, and Thursday. I will post the patterns on Friday.

4. I will shoot video of the individual blocks for Row 3 this week and will post by next weekend.

We're so close to wrapping up this COVID quilt -- thank you for taking this leap with me.

Take pics and videos of your progress on your shop quilt. Share your own stories. Instagram, Facebook and Twitter your stories and share to the group Facebook page. If you have good ideas you want to share with the other shops who are participating, send them to me and I'll pass them along.

I pray that you all stay safe and healthy.

Teresa
If you have any questions, give us a call 712-647-3161 or send Teresa an email teresa@stitchintree.com


Check out the full line up of Stitchin' Tree patterns, clothing and products.
Use your wholesale login, or sign up to receive wholesale login access today.