COVID Tribute Quilt Update for Quilt Shops 9-17-20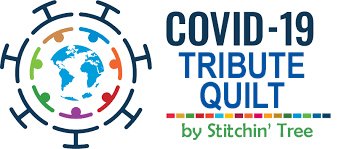 Covid Tribute Quilt Update



September 17, 2020

Just a quick update to our participating quilt shops.

1. Here is the email I sent to my quilters to send out the pattern previews for Row 2 & remind them of the quilt along 9/21. You are welcome to use the marketing language in your own emails, but I encourage you to use your own customized pattern links. https://www.stitchintree.com/module/newsletter.htm?newsletterId=54615

2. The second round of fabric exchange will go in the mail late next week.

3. If you have questions along the way, please let me know. We had a quilter from Kansas who called because she was unable to open the PDF files. Her computer told her she needed a password. She said that she didn't have trouble with the 9-patch instructions, but had trouble with Row 1. I checked the protection on First City Quilt's patterns, and they were encrypted correctly. You need a password to edit the pattern, but not to print. I called her back and learned that she was using a different computer -- a Mac versus a Windows operating system. Upon further investigation, she was not using Adobe Reader on her Mac. So if you have someone who is experiencing difficulty with opening the pattern, check first to see if they are using Adobe Reader to open the pattern. If they try to open with another PDF reader, some PDF readers must first edit the PDF to be able to open it, and the encryption will not allow this. This provides safety and security to the patterns, for me and FOR YOU. With the level of security that we encrypt the patterns, hackers cannot attach viruses, malware, spyware or worms to the patterns that you host on your web server or email server. Trust me, you want to use this level of security with your downloads... which is not to say that I do not make mistakes when securing your patterns, so if your customers continue to have difficulty, let me know and I will double check to make sure I have the right level of encryption on your patterns.


4. For the pattern previews, I send a direct link to the patterns, and do not require my customers to download off the website. For the full pattern links, I require them to load from the website, so I can restrict sharing and keep track of pirates. What do I mean by this? Last month, I had 320 quilters who were participating in the quilt along. Last month, with the pattern preview email, I had 285 quilters open the pattern preview email, and 310 unique downloads. That means that 25 quilters shared the email with others for download. When the full patterns were posted, quilters received a password to download. 320 received the password. 338 download the patterns. The 18 that downloaded, using the password, that were not on my list received a "special" invitation to join the group legitimately, along with a bill for $40. All 18 converted to quilt along clients. This is how I catch the pirates, and how I convert them to ongoing customers. Currently I have 345 quilt along clients, so I'll check my data after this preview. I have set a personal bar -- If I have 15 or more illegal (and that's what they are -- copyright infringement) shares, I will no longer send the pattern previews as a direct link.

5. Using #4 as background information, this is why you want to set up your own method for distributing patterns so that you can use the distribution of patterns as a method for organically growing your customer base. If you need specific help with this, let me know and we can do a private zoom.

6. Your pattern preview links and images are updated in your shared folders. I have also made a few revisions (minor) to the Row 1 patterns. The changes were typos, and do not require notification for your quilters. I have placed the revised patterns in your shared folders, and the revised patterns will appear on your final pattern CDs. You should be receiving an email notification when I add/revise files. Make sure you are getting these notifications, and let me know if you are not.

7. Your full patterns will be placed in your files tomorrow. This will give you time to get them on your site, or link them and have them ready to go out. The email that I will be sending to my clients will not go out until Sunday, but I will send you the content tomorrow in case you want to use any of the marketing language.

How can I help you? I want to make the process as easy as I can. Let me know how I can help you... I'm happy to do private zoom meetings to help you with your quilt along. I welcome your questions and suggestions.


Take pics and videos of your progress on your shop quilt. Share your own stories. Instagram, Facebook and Twitter your stories and share to the group Facebook page. If you have good ideas you want to share with the other shops who are participating, send them to me and I'll pass them along.

I pray that you all stay safe and healthy.

Teresa
If you have any questions, give us a call 712-647-3161 or send Teresa an email teresa@stitchintree.com


Check out the full line up of Stitchin' Tree patterns, clothing and products.
Use your wholesale login, or sign up to receive wholesale login access today.