Have Your Own Quilting Day

Ready to get out of the house and spend the day quilting? Come to the Stitchin' Tree Makerspace and have your own day. Invite a few of your friends to come and quilt with you. Give us a call and we'll put you on the schedule for a private day of sewing. We'll do our best to keep you safe and healthy during this pandemic by providing you with a clean, sanitized environment. If you have a group that is scheduled to sew, we will limit outside visitors, allowing you to have a safe sewing environment. We have space for (up to) 12 quilters.


What does it cost to have a Quilting Day? You'll love this! It's FREE. Our mission at the Stitchin' Tree Makerspace is to provide the space necessary to get your creative juices flowing.

How do you book a day? Check the calendar on our website (click here) If a date is open for Open Sew, give us a call, send us an email or send a text message to get your name on the calendar. When you look at the calendar, you'll see three types of dates:


| | | |
| --- | --- | --- |
| If the calendar includes a bar with a quilter's name, then a group is already scheduled into the Makerspace. | If the calendar includes a bar that says Open Sew, the Makerspace is open for your personal or group quilt day. | If the calendar has bulleted appointments, Teresa will be teaching an online class during the day, but give her a call, because often the Makerspace is also available for Open Sew. |

Bring your machine, project(s) and a great attitude, and get ready for a fun day. You are welcome to use our cutting tables, mats, rulers, rotary cutters, ironing boards and design walls. If you want to store a project at the Makerspace, we'll find an open cubby for you. Need some fabric, notions, thread or supplies? We can help you there as well.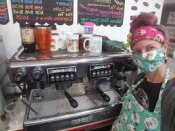 On your way to Stitchin' Tree, make a stop down the street at Building Grounds Coffee Shop for a Carmelvicious or other original coffee/latte. Check out Building Grounds Facebook page. While you are there, take a look at the amazing art, many pieces designed by local metal artist, Jefferson Davis, of Heavy Metal Renaissance. Jefferson constructed the Quilt Cube outside our shop. Its a great place to take an individual or group picture.



Bring your own lunch/snacks or order lunch from Goodfellows, across the street. They have a wonderful lunch/dinner menu with daily specials and divine desserts. Check out the Goodfellows menu.









What about multi-day retreats? Woodbine has an excellent option for you. On August 8th, Mitzi's Place held its ribbon cutting and open house. Click here to go to Mitzi's Place web site and take a virtual tour. Mitzi's place has space to set up a retreat in the lower level, or you are welcome to coordinate your retreat with our Makerspace schedule, and we'll set you up with 24-hour access to the Makerspace.

Mitzi's Place is just a hop-skip-jump down the street, a little over 1 block away.









Need another reason to come for a visit?
Voices and Votes Exhibit
Typically, in September, Woodbine is preparing for our annual Applefest celebration. Unfortunately, because of the COVID pandemic, we will not be hosting Applefest. But, fortunately, one of our highly-sought after displays has NOT been cancelled. Woodbine is very fortunate to be chosen to host the Smithsonian Museum traveling exhibit, Voices and Votes - Democracy in America. The exhibit is free of charge and can be toured at Woodbine Carnegie Library on Lincoln Way (across the street from Foodland). Last week, Senator Chuck Grassley came to town and paused for a photo op outside the library. The exhibit will be in town through the end of September.




Read all about our COVID Friends Quilt Along

and join quilting friends across our great nation as we complete this quilt. It's not too late to join!


The quilt design is a work in progress. As the pandemic evolves, we add optional blocks. The overall design is set, and we've created a web page that tells the stories of all of the blocks in the quilt.



















Each block tells a story, check out the blocks and their stories on our COVID-19 Friends Story page.


---
Got Questions?
Visit our Frequently Asked Questions Page

Follow us on FACEBOOK
We will host a Facebook group for COVID Friends to post pictures, comments and support for each other. You do not have to participate in the Facebook group to be part of this Quilt Along. I've sent an email to invite you to join. Again, this is not required, so do not feel obligated. Here is the direct link to the Facebook group: https://www.facebook.com/groups/548098616079718/

Invite your friends to join us -- please share this email with all of your quilting friends.

They can click this link to read all about it...COVID FRIENDS TRIBUTE QUILT