Dig through your stash to find fabrics to determine if you can make a minimum of (5) 4" cuts (1-1/2" + 2-1/2" strips) of each of the following:

Blue Purple
Green Yellow
Red Orange
Pink Teal/Turquoise

Select fabrics from the color way you signed up for. Choose small scale prints or blenders. You can include lightly directional fabric, but avoid obvious stripes. You can choose to make your cuts from 1 fabric of the color way, or mix it up a little and choose 2-3-4 or even FIVE different fabrics of the color way. Want to get really wild? You could use ten different fabrics – five for the 1-1/2" strips and five for the 2-1/2" strips – of the color way.

Package up your strips in a Priority Mail Flat Rate envelope. Be sure to include this FABRIC EXCHANGE FORM. Send the form and strip package to Stitchin' Tree, postmarked by July 27. The Stitchin' Tree customer service queens are ready to sort the strips for the exchange. We'll have your exchange pack mailed back to you the first week of August.

Click HERE to download the form for your fabric exchange.

Quilt Along begins August 10
Join us online for the quilt along for the first row on August 10. We will be sharing blocks 1-2-3 and an optional block. The patterns for the blocks will be emailed to you August 3, along with fabric selection and cutting tips. Join us live, online via Zoom, participate in a watch party with friends, or wait for the video that will be edited and released August 12. We have not included the ZOOM link yet, as we may have to make some changes to accommodate the number of quilters participating.

Always Remember...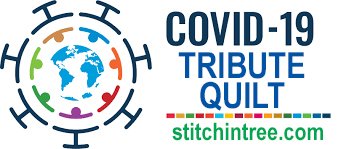 The COVID-19 global pandemic has forever changed the face and heart of our EARTH. Without discrimination, COVID has destroyed millions of lives and livelihoods.Quilters around the world have rushed into action to construct face masks, gowns, caps and other protective gear. At a time when we want to gather together, we are encouraged (and sometimes ordered) to stay apart.

One year from now, five years from now, one generation from now, how will you remember COVID? What stories will you tell your children, grandchildren?

Read all about our COVID Friends Quilt Along

and join quilting friends across our great nation as we complete this quilt.


The quilt design is a work in progress. As the pandemic evolves, we add optional blocks. The overall design is set, and we've created a web page that tells the stories of all of the blocks in the quilt.



















Each block tells a story, check out the blocks and their stories on our COVID-19 Friends Story page.


---
Got Questions?
Visit our Frequently Asked Questions Page

Follow us on FACEBOOK
We will host a Facebook group for COVID Friends to post pictures, comments and support for each other. The Facebook group will open June 10. You do not have to participate in the Facebook group to be part of this Quilt Along. I've sent an email to invite you to join. Again, this is not required, so do not feel obligated. Here is the direct link to the Facebook group: https://www.facebook.com/groups/548098616079718/

Invite your friends to join us -- please share this email with all of your quilting friends.

They can click this link to read all about it...COVID FRIENDS TRIBUTE QUILT