COVID-19 Friends Revealed -- Quilt Shops are invited to participate


Always Remember...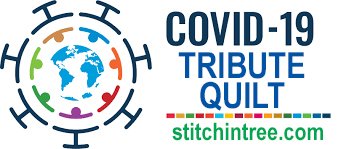 The COVID-19 global pandemic has forever changed the face and heart of our EARTH. Without discrimination, COVID has destroyed millions of lives and livelihoods.Quilters around the world have rushed into action to construct face masks, gowns, caps and other protective gear. At a time when we want to gather together, we are encouraged (and sometimes ordered) to stay apart.

One year from now, five years from now, one generation from now, how will you remember COVID? What stories will you tell your children, grandchildren?






Read all about our COVID Friends Quilt Along

The quilt design is revealed and the story begins









Teresa describes quilt shop participation on this ZOOM recording (warning, it is unedited, so it starts a little rough).

We'd love to have your quilt shop join us...

Here's how you can join the COVID19 Tribute Quilt Along

Registration fee $100 includes
1. Customized reproducible pattern -- your information in the header -- you can reproduce the pattern as many times as you like. Even after the Quilt Along is over, you can offer a BOM, Kit, or simply sell the pattern -- whatever works for your shop.
2. Participation in the online quilt along for you and your quilters. Depending on the number of quilters participating from your shop, you may qualify for a private breakout room during our Zoom quilt along sessions.
3. Ongoing support for marketing and social promotion. Teresa will host regular Zoom meetings throughout the quilt along to go over tips/tricks and answer any questions you might have.

Additional fees
For each quilter that you have participate, they will pay you $40. Of that $40, you will need to pay Stitchin' Tree $15 -- $5 for the pattern CD (provided at the end of the quilt along) and $10 for the Fabric Exchange. Stitchin' Tree will collect the fabrics for the exchange, package them for each quilter and mail them Priority Mail. The $10 covers the cost of shipping. You will NOT need to mail or coordinate any part of the exchange. We'll do all the work for you, while maintaining the security and privacy of the participants. Your customer names or contact information will NOT be shared with any other shops who are participating.

Profit Margin
This Quilt Along cash flows quite nicely. With only (4) participating quilters, participating quilt shops will be able to cover the cost of participation. After (4) quilters, you will have a profit margin of $25 per quilter -- BEFORE fabric purchases.
10 quilters = $150, 20 quilters = $400, 30 quilters = $650, 40 quilters = $900

Marketing Opportunities
This Quilt Along is designed so that quilters can use their stash for the exchange, but will need to purchase 8+ yards of background fabric to construct their quilt. Quilt shops will have an opportunity to advertise their background selections through our Facebook group and links on the Stitchin' Tree website under the COVID Quilt tab. We will also encourage quilters to LIKE and follow FB, IG and Twitter pages for participating quilt shops. These links will also be found on the COVID Quilt page. Teresa is a firm believer that cross marketing benefits all of the quilt shops, and the world is one big outdoor marketplace. We will take advantage of that.

Would you like to join? If you have a wholesale login on our website you can simply register online by adding the COVID-19 Wholesale Pattern Series in your shopping cart.

If you do not have a wholesale login yet, you can sign up for log in, or just give Teresa a call and she can process your order over the phone.

Our time frame is tight, so we will get information out to you just as soon as you commit to participating.



If you have any questions, give us a call

712-647-3161

or send teresa an email

Check out the full line up of Stitchin' Tree patterns, clothing and products.

.




Wholesale orders ALWAYS ship free!