Sweater Season begins today!
It's Sweater Season!
Swatter Sweaters, that is...
Summer time is just around the corner, and the FLIES are becoming pests! Fear not... It's sweater season! Decorate your fly swatter with a quilted swatter sweater, complete with designs on both sides.
You might be wondering...
How do Swatter Sweaters work?
WHO would even think of such a thing???
Click this link to check out Teresa's video that introduces and explains the Swatter Sweaters.

Swatter Sweaters are available in 3 ways...

---
Individual Kits
Browse our website to purchase individual kits of the Swatter Sweater months you love. You can complete your Swatter Sweater as a fly swatter cover as shown, or construct a 6"x12" mini wall hanging.
Each kit includes the pattern and fabric for the swatter sweater and lining.
Individually, the kits are normally $14.00 each. This week, they are on sale for $12.60 each.
Click here to SHOP NOW for individual Swatter Sweater Kits



B
lock of the Month
Sign up to receive a Swatter Sweater kit each month. The monthly cost is $11.50, which includes shipping. That's a $2.50 discount from the regular price. We seasonal kit one month before the holiday it represents. For example, we will ship your 4th of July kit in June. Sign up to receive the Swatter Sweater Block of the Month today, and we will ship the May Flowers Swatter Sweater FREE at the end of your block of the month series.
Click here to take a peak at the Swatter Sweater BOM Collection


Purchase the entire collection of Swatter Sweaters at the discounted price of $138
Swatter Sweater Pattern Collection CD
Want to use up your scraps?
All twelve patterns are available in PDF format on a CD for $36.
Click HERE to order your Swatter Sweater Pattern Collection CD
---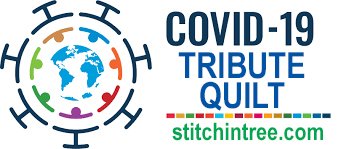 Looking for a way to connect with others? Don't forget our COVID friends tribute quilt.

We are excited that we will be partnering with other quilt shops on this exclusive quilt exchange.

You can read all about it on our website.




---
If you have any questions, give us a call

712-647-3161

or send us an email

Check out the full line up of Stitchin' Tree patterns, clothing and products.

.