Let's HopScotch this Friday
When is the last time you HopScotched?
Here's your chance to hopscotch without spraining an ankle (or worse)! This Friday, we'll be hosting a quilt along featuring our HopScotch pattern. Join us live in the shop or online, and construct this fun, easy quilt. Pull out a layer cake from your stash, add a couple of contrasting fabrics and you're ready to go! The finished quilt measures 60"x70". The class runs from 10am-2pm CST -- Stick around for Show & Tell at 3pm.

You'll need a pattern. Download the electronic version today: HopScotch Electronic PDF Pattern
We've constructed this quilt in every color way imaginable. The class will include a trunk show of several completed quilts.


For Friday's class, Teresa has selected the Bubble Up layer cake -- can't wait so see how it turns out.
Check out the Bubble Up layer cake -- $42.00

Click HERE to Register for the HopScotch class TODAY!

The Zoom Link is located on the class description.

---
We miss you ---
We miss seeing you in our shop, in our classes and at quilt shows. We hope that by self-isolating, you have remained healthy and safe.

Until we have a vaccine, there will probably never be a RIGHT time to plan for a reopening that gets us back to normal, so until then, we are moving forward with a new normal.

Beginning tomorrow, we will resume our full offerings of classes and quilt alongs, but with some modifications.
IN PERSON

... All live classes in our shop will be limited to no more than (4) quilters. Our work tables are set up so that each quilter can have her/his own area and be 10-12 feet away from other work areas.
ONLINE

... Every class and quilt along will also be offered ONLINE. If you have concerns about possible COVID exposure, you can take the classes from the safety of your own home. If you are two states (or more) away, you will be able to join our group from afar. ONLINE classes will be recorded, and can be downloaded and watched from our YouTube channel.
And here's the best part -- all of these classes/quilt alongs are FREE.

---
Here's the lineup for the next few weeks


check out all of our classes and quilt alongs online
---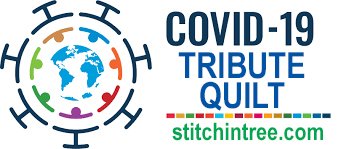 Looking for a way to connect with others? Don't forget our COVID friends tribute quilt.

We are excited that we will be partnering with other quilt shops on this exclusive quilt exchange.

You can read all about it on our website.




---
HOPE TO SEE YOU (ONLINE OR IN PERSON) SOON!



If you have any questions, give us a call

712-647-3161

or send us an email

Check out the full line up of Stitchin' Tree patterns, clothing and products.

.