Ready for a Six-Pack?
Tis the Season

It's hard to believe that Christmas is just around the corner. There is so much to do and so little time to do it....

I checked with Santa, and he said it was okay for you to take a little time out for yourself!

Want to quilt along with Teresa as she introduces a new pattern?
It's Six-Pack Saturday -- Introducing "Backroads"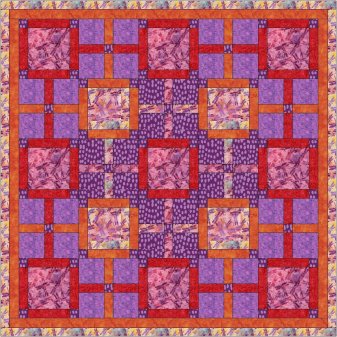 Meet Backroads 50"x50"
Backroads is one of our new 6-Pack patterns. It can be constructed from (6) half-yard cuts of fabric.

Join me this Saturday from 10am-2pm CST as I walk through all the steps in constructing this quilt. I will talk about fabric selection, cutting, piecing and pressing the quilt. No, we won't be able to finish the quilt top in 4 hours, but we should have a pretty good start.

I'll be offering the class in our Makerspace and online. If you plan to come to the shop, bring your own fabric, or come a little early and I'll help you with your selection. If you come to the shop, your class will be FREE because we will may use images of your fabric selection and construction process in our online class video.

OR, if you have a conflict and can't make it to Woodbine on Saturday, you have the option of taking the class live online. When you register to take either of the online class options, you will receive the pattern FREE as an electronic download.

Click: Register for Backroads (in person at the shop) FREE
or
Click: Register for Backroads (live, online) $10
I'm looking forward to seeing you in person & online on Saturday!
If you have any questions, give me a call

712-647-3161

or send me an email

Check out the full line up of Stitchin' Tree patterns, clothing and products.

.